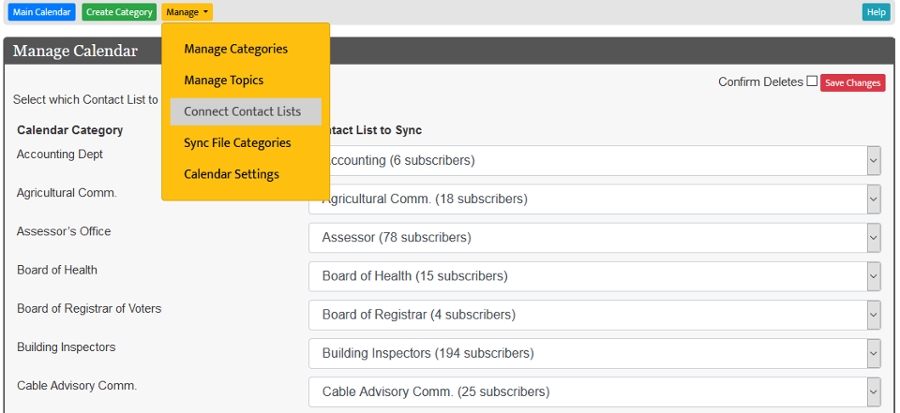 Linking Calendar to Email Lists
There are two ways to send out email reminders about upcoming events in the Calendar:
Emails generated by any event in the Calendar
Emails generated by Board Meetings in the Calendar when using the Agenda / Minutes workflow of the Open Government Module
We cover the second method in another article, Open Govt - How Email Reminders Work.
To send out email reminders for events in the Calendar, you must connect each Calendar category to a Contact List.
For instance, you may have three categories in your Calendar, ie;
Board Meetings
Work Bees
Public Events
In order for people to subscribe to these events, you would need to create three Contact Lists on your Contact page, preferrably with the same names.
Once that is done, you can go to the Calendar on your website, mouse-over the yellow Manage button, and click on Connect Contact Lists (see image, above). Here you can use the drop-down selectors on the right side for each Calendar category. You can also see how many people are subscribed to each list.
When done, click Save Changes.
When Reminders Are Sent
RocketFusion has a weekly scheduled process that kicks off every Friday at 6:00 AM. It goes through all Contact Lists with subscribers to see if they are connected to a Calendar category with events coming up in the next ten days, specifically that Friday morning through the following Sunday at midnight.
Each Contact List will generate a separate email, so if someone has subscribed to all three lists, and each connected Calendar category has upcoming events, they will receive three individual emails with all events in each category listed within each of the three emails.