Now that your Page, News item and Calendar event are the way you want them to be, you should think about Sharing that content with the world, proactively. And that means sending it out as a bulk email from the website, and (if you have a Facebook account or business page) sharing it on Facebook.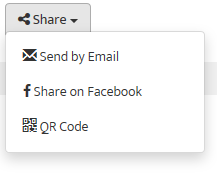 Once you're done editing the item, and it has been saved, mouse-over the [...] icon to reveal the rest of the admin buttons, and then mouse-over the Share button to reveal your options.
QR Code
"QR" stands for Quick Response and it was invented in Japan in the 1970s by the owner of a manufacturing facility, when they realized the UPC bar code couldn't contain the amount of information they needed for inventory control.
Clicking the QR Code option will create a pop-up window with a QR Code graphic in it. This QR Code is unique to the page you're on, and any smartphone that looks at it will load this page.
The only reason to generate a QR Code would be to add it to a poster, or a display ad in a newspaper, or any other print medium you plan to distribute. Realestate agents use it to link directly to a web page about a property they're selling, as do car salesmen. Perhaps you have a Calendar item about an event you're planning. If your plans include a poster or a flyer, why not grab a QR Code for the Calendar page about the event?
After you click the QR Code option in the Sharing drop-down, you can click and drag the graphic onto your desktop or into a folder where you keep other images for the poster or whatever it is you're working on. It will be a PNG file, and you can add it to your Word doc, or whatever program you're using to create your paper-based distribution thing is.
After you're done clicking and dragging, you can close that pop-up window.